History of Diving, part 5
In part 5 we take us from the year 1889 to 1918.
(A good source in creating this chronology has been SPUMS Journal Volume 29 No.2 June 1999. Spums Archive
If you have the rights to any of the images used to illustrate the material, please contact us through our contact form >, we will give you credit for the image, or remove it if you wish.)
1889 EW Moir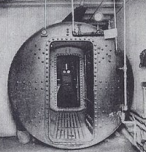 When the Englishman EW Moir became new superintendent of the construction of the tunnel under the Hudson River, he noted that 25 percent of those affected by pressure drop sickness, he built a "medical lock", a chamber that allowed slow lowering of pressure when workers were to leave the caisson. He also introduced recompression as a treatment method. The compression meant that the affected person was cut in half to 2/3 of the maximum pressure he had been in for 25 – 30 minutes, followed by a decompression of 0.7 bar per minute.
After Moir introduced this, a further 120 cases of pressure illness occurred, but only two resulted in deaths. Moir did not publish his findings until 1896, and his method quickly became standard in terms of work under pressure. With this method, Moir had initiated what would lead to the effective treatment of pressure illness 50 .
1893 Louis Boutan
As early as 1871, Frenchman Ernest Bazin describes how to photograph underwater whether or not his concept came into use. Louis Boutan was a zoologist and fascinated by the underwater world. During a visit to a laboratory in Banyus-sur-Mer, he had to borrow their diving equipment and then began to think about how he could photograph underwater. Together with his brother Austin, he designed an uv photography system in 1890 and he is then counted as the father of uv photography. In 1898 he published the world's first book on underwater photography, "La photographie sous-marine et les progrès de la photographie". At the World Exhibition in Paris 1900, among other things, Boutan's images from the sea were shown 51, 52 .