International Historical Diving Event 2015
Three fantastic days in brilliant weather in Svanesund.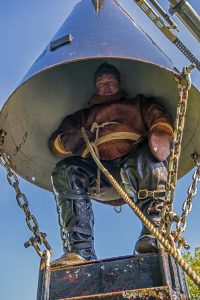 Lovely people from different parts of Europe.
Perfect place for all different activities.
Skilled employees for all tasks.
Exciting diving equipment from Model "Old" to look at and even test.
Eager divers tried everything that was available.
Interesting and educational lectures.
Impressive collection of UV photo equipment.
Nostalgic exhibition about the Red Sea Expedition 1955.
Good food and lovely atmosphere.
See over 100 pictures below and read a detailed report
in December 2015 by Signallinan.
Thank you to everyone who contributed to a successful event!
Birgitta Forsén, chairman.
Photographer: Kent Forsén

The program and the invitation can be viewed here, (Click on the image below).

Together with Yrgo, Commercial Diving School, Göteborg.
Swedish Historical Diving Society
Djurgårdsvägen 36B
SE-115 21 Stockholm
Event Manager: Birgitta Forsén and Bert Westenberg. Information: Hans ÖrnhagenOn site responsible: Dan Hedberg