Här finner du händelser inom SDHF under 2017, som inte redovisas på andra platser på webbsidan.
CMAS besök 2017
The president and secretary general of CMAS visit Sweden and The Swedish historical diving society. In conjunction to the annual Diving exhibition in Stockholm, CMAS president Anna Arzhanova and CMAS secretary general Hassan Baccouche visited the Swedish sportsdiving fereration, SSDF, and The Swedish historical diving society, SDHF. The SDHF, is housed in the building of the old escape training tower, abandoned by the navy in 1979. The host at the visit was Dr Hans Ornhagen, consulting doctor at the Swedish sportsdiving federation, and also one of those who rescued the old house from demolition after the navy had moved. The house today contains, not only the original hardware the escape training tank and a 10 bar recompression chamber with wet pot from 1934, but also all kind of diving equipment collected during the years. As an example the recoil free water nozzle (see picture), invented in the early forties by Arne Zetterstrom, was presented as a preparation for and introduction to the following visit to the Vasa museum displaying the 17th century warship Vasa, salvaged in 1961 after more than 300 years at the bottom of Stockholm harbor. The tunnels for the hoisting cables under the ship were made by helmet divers using the Zetterstrom nozzle. Arne Zetterstrom was not only the inventor of tools for divers, he was also the man behind the first dives with hyrox in the open sea in 1945. Hydrox, a mix of Oxygen and Hydrogen, in proportions that makes it fire safe, was believed by Zetterstrom to be a substitute for heliox in deep diving when helium was not available, as in Sweden during the war. The sad story is that the young Zetterstrom, only 28 years old, was killed during an experimental dive because of a mistake that had nothing to do with the exotic breathing gas or the new decompression tables for deep bounce diving. The tragic dive was the fourth in a series of successively deeper dives made from the submarine rescue ship HMS Belos. The dive station was located at the crane for the diving platform at the aft of the ship. To prevent the platform from spinning around, when hanging at the end of a 165m long wire, a guy (a thin line) was mounted at one of the corners of the platform and up to a winch at the bow of the ship. Two conscripts, who had not been onboard during the earlier dives and consequently were not trained and informed enough got the job to handle the guy winch with the order to keep the guy tight without slack. They had no training in diving and did not understand that an ascent from a deep dive has to be done slowly and in steps so when the order was given onboard "The diver is coming up" the two at the guy winch started to take in their line. All the others understood that coming up meant "to the first stop at 120m" so the main crane hoisting the platform stopped when the wire was at the 120m mark. Zettersrom signaled OK and because of the hydrogen communication was difficult and not too many words were exchanged. What the diving supervisor did notice was that the two at the guy winch continued to take in line. Their task was to "take in the line and keep it tight" and the diver was on his way to the surface so they did what they had been told. When Zettrerstrom did not respond to questions at a later decompression stop the diving supervisor realized that something must be wrong. His attention was brought to the fact that the hoisting wire seemed less tense than earlier during the dive while the guy wire was very tight and they found the platform hanging just below the bow of the ship. Zetterstrom was unconscious on the platform according to a stand by diver sent down to the platform. He followed the platform when it was lowered to 50 m. No improvement could be seen I the status of Zetterstrom and he was hoisted quickly to the surface to be placed in a recompression chamber together with the diving doctor. Despite vigorous efforts by the doctor Zetterstrom could not be brought back to life. Everybody onboard with knowledge in diving understood that Zetterström had become unconscious when the hydrox was not changed for a gas with higher oxygen content and he could therefore not signal any problem when the decompression illness struck because of the abandoned decompression stops. A combination of hypoxia and severe decompression sickness killed Zetterstrom. A court marchal came to the conclusion that there was no one to blame because of the complex situation with a mixed crew and novel technology. The hydrox diving project was stopped. It was not until 1979 the French diving company COMEX tried hydrox in diving and the Swedish navy made hydrox exposures in chamber dives in 1983. Both COMEX and The Swedish Navy found in their experiments that hydrogen was too narcotic for use in deep diving.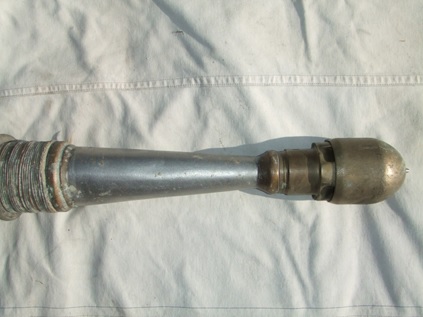 The Setterstom water noszzle.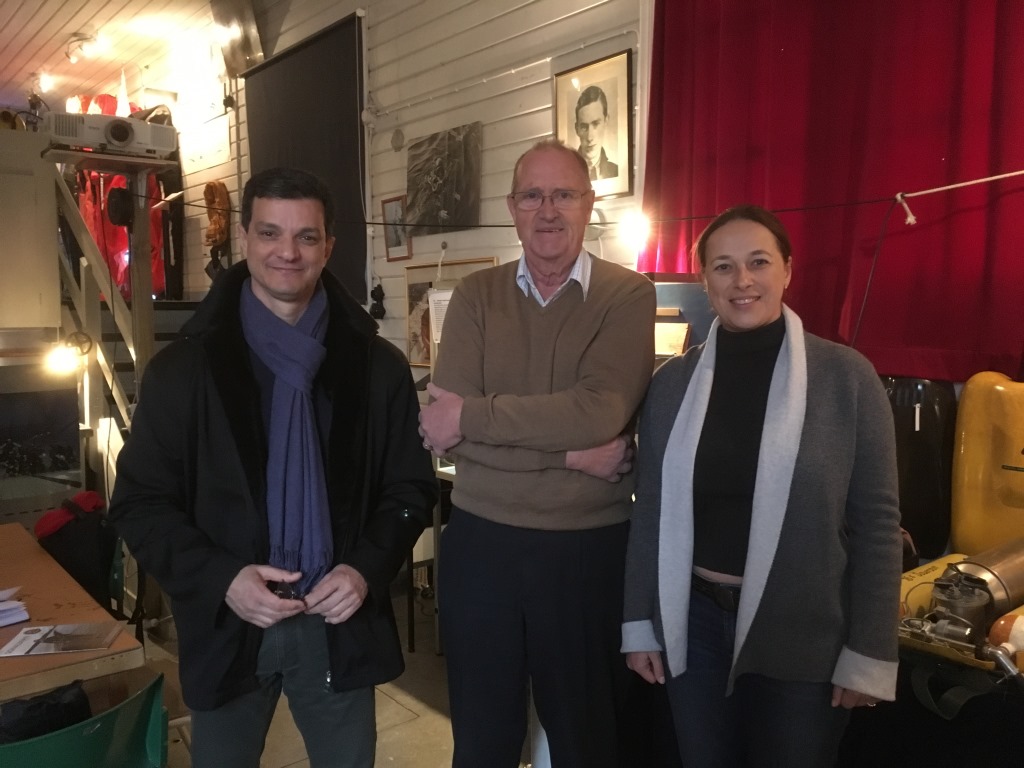 From left to right Hassan Baccouche, Hans Ornhagen and Anna Arzhanova
A draw of the accident
Arbetshelg dyktankhuset

Arbetsdagar på Dyktankhuset
Vi har städdagar lördag-söndag den 25-26 februari kl 10-16.
Ställ gärna upp! Ju fler desto bättre.
Du kan vid intresse anmäla din insats på info(du vet vilken krumilur)sdhf.se
Vi förväntar oss givetvis inte att du, som bor långt från Stockholm kan delta, men vi är många i närområdet och alla krafter är välkomna!
Väl mött i Dyktankhuset !
Styrelsen/Birgitta
SDHF rensar i förrådscontainer.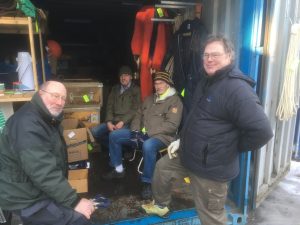 Fredagen 17 februari ägnade 5 av föreningen medlemmar åt att röja i föreningens container. Mycket av det som finns i containern är dubbletter och i så dåligt skick att det inte är något att spara. För en samlare kan det i det utsorterade finnas reservdelar och komponenter som kan vara av intresse. Avsikten är därför att senare i vår ordna en loppis för intresserade. De som redan nu vet med sig att de skulle vilja komma och se vad som finns bör höra av sig till föreningens e-postadress info@sdhf.se När väl datum bestämts kommer det naturligtvis att annonseras på denna hemsida.
Från vänster i bild. Bert Westenberg, Hans Forsman, Tomas Jangvik och Hans Bohlin.
(Foto: H Örnhagen)
Dykloppis
Svensk dykerihistorisk förening har fått för mycket prylar och vi måste göra oss av med sådant som vi inte kan ställa ut. Räkna inte med fynd som du kan använda i dykning direkt, men vi har prylar som du kan putsa upp och ha i bokhyllan, reservdelar, kuriosagrejer och inte minst föremål som kan komplettera din egen samling. Gå in på vår hemsida så får du mer information och en lista över vad vi säljer eller skänker. Under visningen bjuder vi på kaffe med kaka.
Klicka på dokumentet för lista på objekt vi auktionerar ut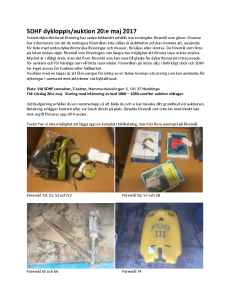 Datum:
20/5 2017 Visning och inlämning av bud startar kl 10.00. Kl 10.30 startar auktion.
Plats:
Vid SDHF container
T-tainer
Hammardalsslingan 3
141 37 Huddinge

Efter att alla utropsnummer gåtts igenom och sålda föremål omhändertagits av köparna skänker vi bort resterande föremål på listan mot bortforsling.
Välkomna att göra ett fynd.
Guidekurs
Senaste kursen resulterade i tre nya guider.
Efter genomgången guidekurs (2017-08-19) välkomnar vi fyra nya guider!
Bli en guide i Dyktankhuset – vi utbildar dig !
Lördagen den 19 augusti 2017 arrangerar vi en utbildning, då du får lära dig bl. a.
Rutiner vid öppnande och stängning

Vad du skall göra under öppethållandet

Dyktankhusets historia

Föremålskunskap

Hur SDHF fungerar – allmän information

Säkerhetsrutiner
Kursen ger dig information och kunskap.
Du kommer efter genomgången kurs kunna vara med en mer rutinerad guide för att på så sätt utveckla dina kunskaper.
Kursen är kostnadsfri.
Tidsåtgång ca 6 timmar
Anmäl och ev. frågor till:
Tomas Jangvik
mail: tomas.jangvik@gmail.com
telefon: 0706 55 50 50.
Välkommen med din anmälan
Tomas Jangvik
För SDHF
Vi är i stort behov av guider !
NDHR
INVITATION TO THE NORDIC HISTORICAL DIVING RALLY 2017
IN AND AROUND LARKOLLEN NEAR MOSS on the 24th to 27th of August
Open also to Non Nordic participants.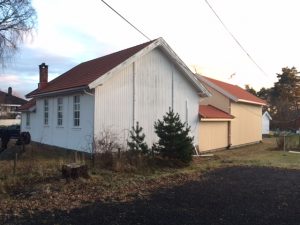 Stein Stavdal Paulsens private diving museum Larkollen
This is the main venue for eating and lectures Friday, Saturday and Sunday. Due to a different event at the hotel they have very few rooms available. Stein has contact with different private houses that can put up participants. He also has contact with the local camping place and their cabins.
So for accommodation you have to contact Stein Stavdal Paulsen steinsp@online.no with your preferred choice.
Program
THURSDAY 24th August
For those interested in Norwegian wartime history, we have arranged a guided tour at Oscarsborg fortress in Drøbaksundet starting out on the island at 15:00. It was the guns and torpedoes from this fortress that sank the German Battlecruiser "Blücher", and halted the invasion of Oslo on the 9th of April 1940, and thus allowed the king, parliament and government to escape. Some of us have booked accommodation in the fortress and will stay overnight. http://www.oscarsborghotel.no Further information about this part of the program from bwkahrs@online.no This part of the program is an option.
FRIDAY 25th August
11:00 Opening of the rally and the diving part at Norsk Yrkesdykkerskole (NYD) at Fagerstrand. www.nyd.no Diving with old equipment provided by the participants. We hope to have the Triewald bell from Finland there. NYD is a commercial diver training establishment.
Lunch at NYD
16:00 Transport to Larkollen and the different places of accommodation.
19:00 Prawns galore in part of Steins museum located in an old chapel called Emmaus. You can bring your own drinks (BOB Bring your Own Bottle) A limited amount of drinks for sale.
SATURDAY 26th August
08:30 – 09:30 Breakfast at Emmaus due to limited cooking facilities at the different places of accommodation. Must be finished and cleared up before 10:00.
10:00 Official opening of the rally by the chairman of the Rygge municipality and our chairman Stein Stavdal Paulsen.
10:15 Early diving in Norway with emphasis on the bell diving in Kilstrømmen in 1672 by Bjørn W. Kahrs
10:45 The most northerly dive in standard (hard hat) gear in the world by Dag Nævestad from the Norwegian Maritime Museum in Oslo.
11:15 Coffee or tea break.
11:45 Diving at Kalstø, the landing site for a pipeline on the west coast of Norway. The biggest inshore diving job in Norway, by Kai Olsen the diving manager of this project.
12:30 Lunch.
13:30 Ottestad Breathing Systems. Developing breathing equipment for deep diving by Nils T. Ottestad.
14:00 The history of the Viking diving suit. Speaker to be named.(STBN)
14:30 Coffee or tea break.
15:00 Larkollen and its (maritime) history. STBN
15:30 Our naval hero Tordenskjold and his relation to diving by Bjørn W. Kahrs
15:45 The history of Norwegian hyperbaric medicine and deep saturation diving by Kåre Segadal:
16:15 The analysis of the air samples from the sunken Russian submarine "Kursk" by Kåre Segadal.
16:30 The official opening of the new extension of Stein Stavdal Paulsen's diving museum. Time to look at this part of his collection.
19:00 Seafood cold buffet at the chapel Emmaus. You can bring your own drinks (BOB Bring your Own Bottle). A limited amount of drinks for sale.
SUNDAY 27th August
08:30 – 09:30 Breakfast at Emmaus due to limited cooking facilities at the different places of accommodation. Must be finished and cleared up before 10:00.
10:00 Departure for Moss and the ferry across the Oslofjord to Horten. Ferry leaves approx. every half hour. Walk from the ferry to the Navy Museum.
Approx. 12:00 Guided tour of the museum and lecture about the museum.
14:00 Light lunch and end of rally.
Return to Moss for trains to Oslo or airport bus to Oslo Airport Gardermoen.
Price of rally. Limited to NOK 1000,- for food (coffee or tea, breakfast, lunch and evening meal), ferry to Horten and entrance to the Navy Museum to be paid on arrival in Larkollen. Accommodation and drinks to be paid individually.
Registration to post@dykkehistorisk.no or bwkahrs@online.no
For accommodation to steinsp@online.no